So lately I have not gotten in a lot of hobby work. I still have 20 tac marines, 5 scouts and a captain and command squad to put together not to mention I still need to finish painting and basing the Terminators I took to the Apoc Game.
But in the last 5th Ed Tournament because I ended up playing and picked up a Terminator Librarian as my entry fee I decided to put him together after looking at the 6th Ed rule for a bit.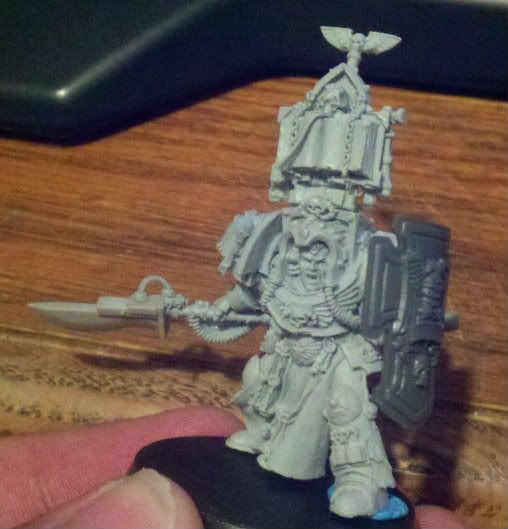 "Call me Primus Masavo!"
1) The Force Axe will allow him to cut though 2+ Armor and normally wound on a 3+
2) The Storm Shield will help him survive any challenges he is forced to make.
The Librarian can be an extremely deadly close combat fighter now given the proper psychic powers. Biomancy has the ability to increase his toughness and give him Eternal Warrior, increase his strength and attacks, and even leech wounds to recover his own. If he is needed as a support I have found that Telekinesis is extremely helpful, the Invisibility and Hallucination powers can be very useful in almost any game.
I have only gotten to use him in 2 games so far but he has really been a benefit in both and may replace Vulkan in most of my lists as they are the same points cost.
Duels in 6th Ed.
Now I have an idea on how most duels will go at the start of this new edition. The charging player will challenge the enemy with his best fighter and the challenge will either be accepted by a well armed Sgt. or will be refused if he is afraid of being killed.
This is a bad situation. The challenger should not be the best fighter, it should be the cheapest character in the unit. The challenged should also be the cheapest character in the unit, unless the squad is going to most likely be wiped out.
The reason the challenger should be the cheapest character is so that he can be used to tie up the enemy character, not necessarily to kill him. Leave your most deadly characters out of the challenge in order to kill as many enemy models as possible. In a challenge he only has the potential to kill the 1 model, out of a challenge he can kill the whole enemy squad.
If your cheap character can tie up your opponents good fighting character then he limits how much that character can kill. I would be happy to sacrifice a Space Marine Sgt to Abaddon in a duel rather then to let Abaddon kill 5+ Space Marines from the squad.
Now I believe we will later on see people making "specialist characters" just for duels. These will normally be defensive characters. Any character that can have a 2+ armor save or a decent invulnerable save would be key, multiple wounds would be a nice plus. This is to increase their survive ability, the longer a "cheaper" character can hold off a more expensive one the better. I can see Wolf Guard being key in this role for Space Wolves.

So what are your guys thoughts and experiences with challenges so far? I would like to hear some of what you have to say.
Till next time! Happy Wargaming!